Powered By 画RSS
スポンサーサイト
上記の広告は1ヶ月以上更新のないブログに表示されています。
新しい記事を書く事で広告が消せます。
jLT Xenedia Update
At last jLT has finished updating "Xenedia" I got the feeling this will be Mail Magazine no152
■New Map "Xenedia" has been added.
  Mysteries Shrine appeared in the middle of Orca Beach. The name is Xenedia.
  The shrine is very old and ancient, wonder why it suddenly show their appearance
  A sealed Xenedia is now roaring out, awaiting for explorer to come and visit.
〇How to get Xenedia?
  To get Xenedia, you will go through Orca Beach located near Elfa Town
  Depend on your level, maps will appear differently when you enter it.
※Depend on the field, the level of monster will differ.(Lv40s、80s、140s、180s)
※To get back to Orca Beach you would need to go through "Submerged Garden(Lv40s Map)"
※There are certain maps that you would need to complete quest to be able to enter it.
■At last 3rd Class is now added!  
Lv140 and above 2nd Class Character can now become 3rd Class by completing Xenedia's Quest
.
| | |
| --- | --- |
| 2nd Class | 3rd Class |
| Warlord | Dragoon |
| Blader | Strider |
| Templer | Holy Order |
| Guardian | Saint |
| Sorcerer | Elemental Master |
| Bard | MInstrel |
| Treasure Hunter | Ruin Walker |
| Gunslinger | Duellist |
| Meister | Engister |
〇What happen after you class change from 2nd to 3rd?
  ○Status
  HP,SP depend on Class your Status will increase.
  ○Special Gauge
  On top left, there will be a gauge for 3rd Class Skill.
  ○Skill
  All skill you have learn will be reset and gain back all Skill points.
  "Emoticon" "Event Skill" and "Special Skill "Str Sta Mag Luck Master"
  will not be reset. Also after you Class Change, you will receive 10 Skill points.
  All new skills and skills you have learnt before will need Ely to buy them.
  Skills you have learn from previous Class will now have new requirement, new Max Skill Level
  change in abilities effect, require level are all changed.
  So before you learn them make sure you check each of the skills description.
  ○Other
  For Holy Order, Defense will increase when you equip Shield while running
  For Engister, Movement speed will increase when you equip MG while running.
  After completing all the Class Change Quest, as a reward,
  you will gain DS Coin x1, and [Event]Professional Skill Reset Book x1
  Be aware that [Event]Professional Skill Reset Book have usage time of 15 days.
■Special Gauge for 3rd Class Skill has been added
  There is a weapon skills for 3rd Class, to use those you would need to use Special Points.
  ※Depends on Classes, require points and the way of obtaining is different.
Point Type
Obtain
Class

AP

(Attack Point

Deal Damage to Monster


※Skill like SM

G will not give any AP

Dragoon
God Hand
Elemental Master
Minstrel
Engister

BP
(Barrett Point)
Use for Skill "BP Load"
※To use Skill "BP Load" you would need to buy
"BP Magazine" from either Elias or Midgard
Duellist
CP
(Combo Point)
Continuesly deal damage to Monster


※If Combo stop in the middle guage will go to 0

Strider
DP
(Damage Point)
Get Damage
Holy Order
EP
(Ely Point)
1.Gain Ely from Monster
2.Use Ely to use EP Collecting Skill
Ruin Walker
※Log out, Change channel (including Instance Dungeon) can cause your Special Gauge down to 0
■New Quest has been added
  ○Xenedia Quest
    There are "3rd Class Change Quest" and "General Quest"
    Both can be found from NPC in Xenedia.
  ○Lv110s~Lv130s New Quest
  New Quest added for "Cookie Garden", "Aquarium" and "Bifrest", can be found from NPCs
  ※These quest can be done as many times.
■New Monster been added
  Extremely strong monsters has been added to Xenedia!
  There may be some monster that even Lv180 hard to handle...?
  If solo isn't possible, then why don't you try out with your friends!
■Certain Monster re-spawn time change(4/27 17:00 added)
  Mountain Kong/Ghost Warrior re-spawn time has been changed.
■New Item has been added
  "BP Magazine" and "Gun Magazine" has been added to Elias and Midgard Weapon Shop.
  It is an item for 3rd Class "Duellist" to use for certain Skills
■Certain Quest requirement has been changed
  Those quest that had Class Limit will now be
  able to do it to any Classes.
  Character that are Lv105 or higher can now do this quest at Elias Airport NPC "Hanui"
 ・Frozen Spear
 ・Frozen Hammer
 ・Frozen Dagger
 ・Frozen Gun(Xbow)
■New Special Item has been added
  5 new Special Item has been added
 ・Soul Warrior Engineer Crest ⇒ Obtain by Craft and Monster Drop
 ・Goblin King Engineer Crest ⇒ Obtain by Craft and Monster Drop
 ・Goblin Warlord Engineer Earring ⇒ Obtain by Craft and Monster Drop
 ・Feather Shield ⇒ Obtain by Craft and Monster Drop
 ・Feather Rod ⇒ Obtain by Craft and Monster Drop
■Certain Special Item's Abilities has been changed.
  For certain equipment that increase Skill Level, and the equip level that goes over lv140、
  it will increase 3rd Class Skill as well
■Channel Change added new time limit.
  Once you change Channel, you can not change channel until 15sec pass.
○Ladeck new 1st Prize "Magical Sky Set" and Magical Cherry (Girl) Set" introduced!
  Cute Cherry Colour and brings out the softness of "Magical Cherry (Girl) Set"
  The fresh blue sky reminiscent "Magical Sky Set"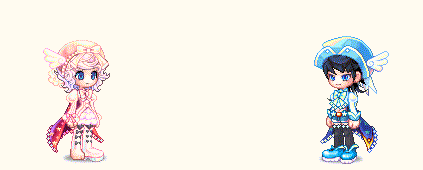 The feather on head is just so dressed up♪
  Both lovely feather is one point, and also cute mystical costume.
  Perfect costume for Spring, why don't you refresh yourself!
○In New Fashion Item "St.Gabriel Set" and "Lucifer Set" are added.
  Golden Armor and beautiful wing "St.Gabriel Set"、
  Feels the bottomless power "Lucifer Set" both introduced!
 Both has strong image of Warrior design
  Let's go use Light and Dark to suit your Character image!
スポンサーサイト
コメント