Powered By 画RSS
スポンサーサイト
上記の広告は1ヶ月以上更新のないブログに表示されています。
新しい記事を書く事で広告が消せます。
Episode 7 [Land of Heavenly] are out!
Big Update Episode 7 [Land of the Heavenly]
※Sorry for the Change, its sound more accurate.
※When I'm extremely bored I might translate it.
Sorry for the late, been busy with rl.
Update: Maestro Full Skill list
[Update Information]
■ About Subclass
- Sub Class is system where your Main Class can be
  switch with specialize Class (Sub Class).
  Only for those who successfully complete 3rd Class are able to do this.
- Sub Class starts at Level 140
- Sub Class is different to previous Class System,
  where you will have Main Class and Sub Class,
  you are able to select any Class and enjoy both of them.
Example) 2nd Class and 3rd Class: Warlord → Dragoon
Sub Class System: Dragoon ↔ Highlander
■ Sub Class Change
-To obtain Sub Class, you would need to complete Common Quest and Sub Class Quest.
 You can find clues from Elias Palace Entrance.
-Class Change is located in Echo chrome's Class Change Room.
-Sub Class Quest are needed to complete once, after that when you are switching
 there are 30min Waiting Time, afterward able to switch freely.
- First time changing to Sub Class, you would obtain two types of Sub Class Weapon.
※If the Character Equipping Weapon or not enough space in Item Inventory,
  you are not able to Class Change to please make sure you are not equipping any weapon and have
   enough space in your Item Inventory.
Main Class, Sub Class Shares and not Shared.
| | |
| --- | --- |
| Shared | Not Shared |
| Item Inventory (Including Bank) | Quest Information |
| Ely and Oz Cash (Astro) Point Info | PvP Information |
| Auction, Mail and Gift Info | Str, Sta, Mag, Luk Info |
| Buddy, Guild and Marriage Info | Shortcut Location |
| Title and Save type Buff Info | Level and XP Info |
| Save Location (Iris and Town Port) | Class Skill (Weap + Misc) |
| Emotion, Skill Info | Saved Skill Point |
| Dig, Mine Skill type | Ely Passive Skill |
| Fame and Craft Skill | PvP Ranking |
■Introduce Sub Class
The description are the same as I previously Posted this Blog.
This time the Skill List are not in image format so anyone are able to use the google translator to translate it (though there may be miss leading translation)
I'll slowly translate it. (Probably need Yuuki-chan help too)
■Lv170s Weapon and Armor are added.
From here on are based on Yuuki-chan Blog (
From here
)
Click the Image to Zoom in the Skill Table
Highlander Weapon
Highlander - Full Skill
Click Here to view Highlander Full Skill list

Sword Dancer Weapon
Sword Dancer - Skill List
Click to view Sword Dancer Full Skill List
※Most Skill name uses Ancient Korean Word / Chinese Martial Art Name and such so Highly inaccurate Name.
Terror Knight Weapon
Terror Knight Gauntlet Skill
Psykicker Weapon
Psykicker - Skill list
Click Here to view Full Psykicker Skill List
Phantom Mage Weapon
Phantom Mage - Full Skill
Click Here to view Phantom Mage full list
Maestro Weapon
Maestro - Music Rod Skill
Click Here to view Maestro Music Rod Skill
※Some Change Alla Rondo → Allargando
Click Here to view Maestro Misc Skill
Rogue Master Weapon
Rogue Master - Full Skill
Click Here to view FUll Skill List
Judgment Weapon
Judgment Gunblade Skill
Click Here to view Judgment Full Skill
Star Seeker Weapon
Star Seeker Guardian Ball Skill
Maps, Jewel System, Fame System Click this Additional Post Botton.
■New Continent World Added.
[Freios]


Note: Sky of Ocean is now Void Ocean.





■New Area Added.

How to get to New Continent.

If you go close to the new portal that appear in Belos Clock Towere
there will be event occur.
At this point you wont be able to go inside the portal.

If you walk pass the Elias Palace Entrance there will be event.

Then if you go to the Palace there will be event from Hejong, Herne and Platinum.
After all these event done go back to the Belos Clock Tower portal
you will be now be able to go to Platinum Home Town New Continent [Freios]
There is no monster area till you reach to Guild Association.

Guild Association


Note:Missing name is Echochrome

Mysterious Forest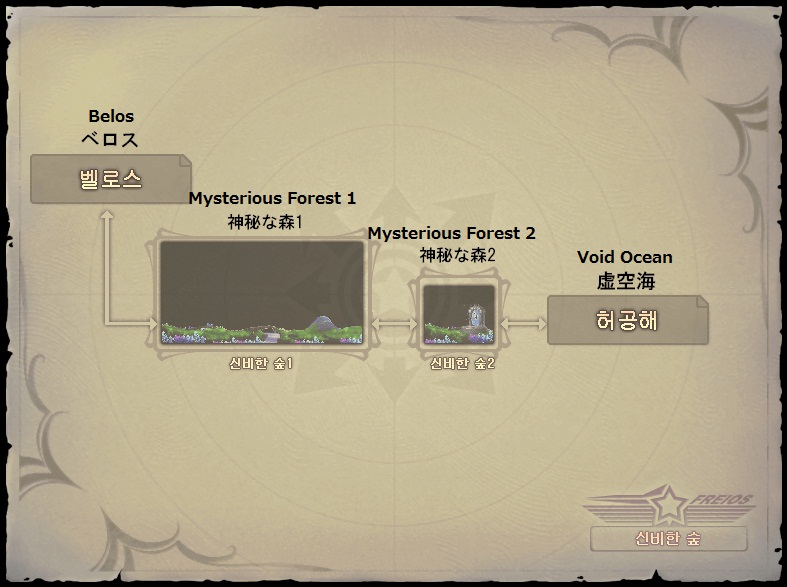 Sky of Ocean



El Anorl Plain East Section Lv 147 - Lv 151



El Anorl Plain West Section Lv 141 - Lv 147



El Anorl Plain South Section Lv 111 - Lv 130



El Anorl Plain North Section Lv170 - Lv 189



■23 New Monster Added.

■Approax. 620 New Quests Added.

※No way I'm gonna do all 620 Quests. Though if I have time I might do Sub Class Quests (which what you guys might like to see right?)

Every Day New Quest as been added as New Quest System.
One Day Quest is a Quest you Complete 10 Quest a day, another way to able to Level Up more efficiently.
One Day Quest has limit and get reset every 5pm.



■Jewel System

-Jewel System is a system where you have Jewel Item to place to Jewel Slot,
 and added abilities to Equip Item with similar Abilities.

■How to use Jewel System

-To use Jewel System, press the Jewel Slot Button bottom of Item Window,
 when clicked, Jewel Slot UI will open.

-There are Jewel Gem, Blue Gem, Yellow Gem and Rainbow Gem,
 place each colour to their right slot.

- Red Gem, Blue Gem, Yellow Gem will be placed in each 1 Slot, 2 Slot,
 3 Slot, placing the same colour in 1 to 3 Slot will allow you to
 able to place 4 Slot Jewel.

-Master Slot (Rainbow Gem) only be allow if other Slot has been placed.

-Jewel is for placing in Jewel Slot, so at the moment it will be different to Equip List.
 Therefore, your Equip+Jewel become abilities which increase the pure abilities.


-Jewel Item can be enchanted using Jewel Only Puzzle,
 The enchant option type are different depend on Jewel Item's Colour and number of Slot
 

■How to obtain Jewel Item

-1+、2+ Level's 1 to 3 Slot Jewel Item are found at New Continent High Class Monster Drop

-1+~4+Level's 1 to 4 Slot Jewel Item are found at New Continent Boss Monster Drop

-3+ Level's 1 to 3 Slot Jewel Item are found at trading for Item Fame Reward

■Fame System

-By Completing Quests or Monster Hunting at Guild Association
 you can increase [Storm Watcher]Guild Fame and [Echochrome] Guild Fame.

-Gaining Fame from Monster are started at Preios General Quests rewards
 There are different Fame from different Fame Quests
 so make sure you check the quest first

■To gain Fame you must activate your preference either
 Storm Watcher Fame or Echochrome Fame.

※To get Storm Watcher Fame force conversation to NPC [Ainst]、
  Echochrome Fame from force conversation to NPC [Jeid]
  to activate.

■Fame Menu

-Can be found at Menu, also can be set in Shortcut key.
 

■Fame Grade





■Fame Point Reward.

-Fame Point you have gain, you can trade with Support Item from NPC.
-2 Boxes come with 24hr Cooltime.

Storm Watcher Item List
※Will List later

Echochrome Item List
※Will List later

スポンサーサイト
テーマ:トキメキファンタジー ラテール - ジャンル:オンラインゲーム
コメント